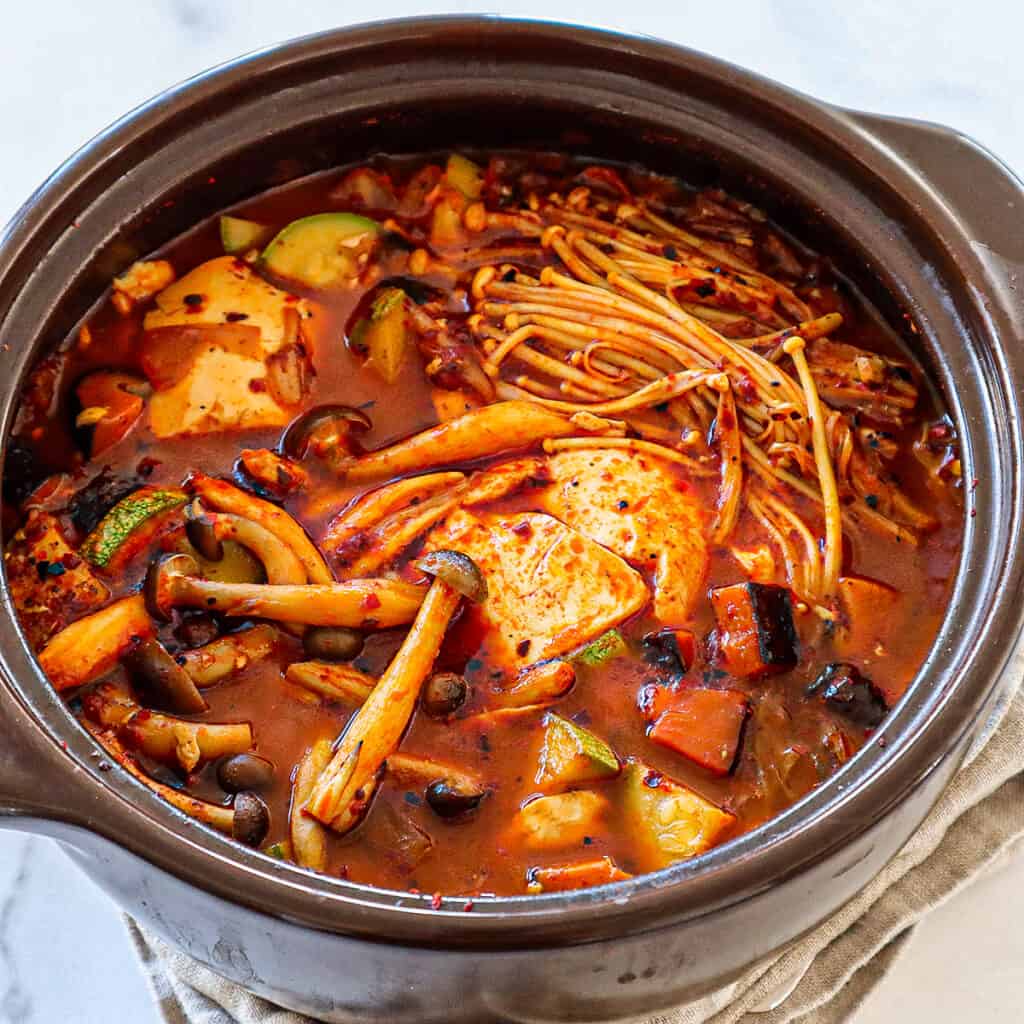 This vegan soondubu jjigae aka Korean spicy tofu soup (버섯 순두부찌개) is better than what you can get at the restaurant. It's the ultimate Korean spicy soup packed with umami flavours from the mushrooms in this recipe. Enjoy with a hot bowl of rice!
Soondubu Jjigae
Ingredients
1 ½

cups

water

2

tablespoons

tamari or soy sauce

2

teaspoons

mushroom seasoning

(or 4 dried shiitake mushrooms)

1

–

4" x 4" piece kombu

2

tablespoons

gochugaru (Korean red pepper powder)

, to taste

2

tablespoons

roasted sesame oil

1

cup

(60g) roughly chopped shiitake mushrooms

(about 4 medium mushrooms)

Pinch

of salt

½

cup

(110g) roughly chopped kimchi

1

cup

(140g) chopped zucchini

(about 1 small zucchini)

14

oz

(397g) silken tofu aka extra soft tofu aka soon tofu

80

g

assorted mushrooms (enoki, brown beech mushrooms, white beech mushroom)

, trimmed and separated
Instructions
Stir and combine water, tamari, mushroom seasoning, and kombu. Set this aside to soak while preparing the rest of the ingredients. (If you're using dried shiitake mushrooms instead of mushroom seasoning, it's best to soak this mixture overnight or at least for 2 hours. Once the dried shiitake mushrooms have been rehydrated, squeeze out the excess liquid and chop them up for this recipe.)

In a heavy bottom pot, sauté sesame oil and gochugaru on low heat until fragrant, about 30 seconds (be careful not to burn the gochugaru).

Add chopped shiitake mushrooms, turn up the heat, and sauté mushrooms in the chili oil until softened. Season with a pinch of salt.

Add chopped kimchi and sauté for about two minutes.

Stir soaked kombu mixture and pour into the pot. Stir with a wooden spoon and scrape off any bits that may be stuck on the bottom of the pot.

Bring to a gentle simmer, and steep the kombu for about 10-15 minutes. Avoid boiling the water, as high temperatures may bring out a bitter flavor from the kombu. After about 10-15 minutes, remove the kombu.

Add chopped zucchini and silken tofu. You can gently break the tofu into large chunks using a wooden spoon. Do not overly break down the tofu because the tofu is so soft that it will end up dissolving into your soup.

Top it off with enoki and/or beech mushrooms. Cover with lid and turn up the heat; bring to a boil. Once all the vegetables have been cooked through (about 5-7 minutes), serve soondubu jjigae immediately along with some freshly cooked rice.