Here is the best hotteok recipe ever! Hotteok is a Korean style sweet pancake. It's one of the most popular Korean street food. It's very easy to make and only takes a few ingredients. It's kind of like a flattened donut that's crispy on the outside, soft and slightly chewy in the inside, and stuffed with cinnamon sugar and nuts. I'll take a warm hotteok over a donut any day (even though I love donuts too!).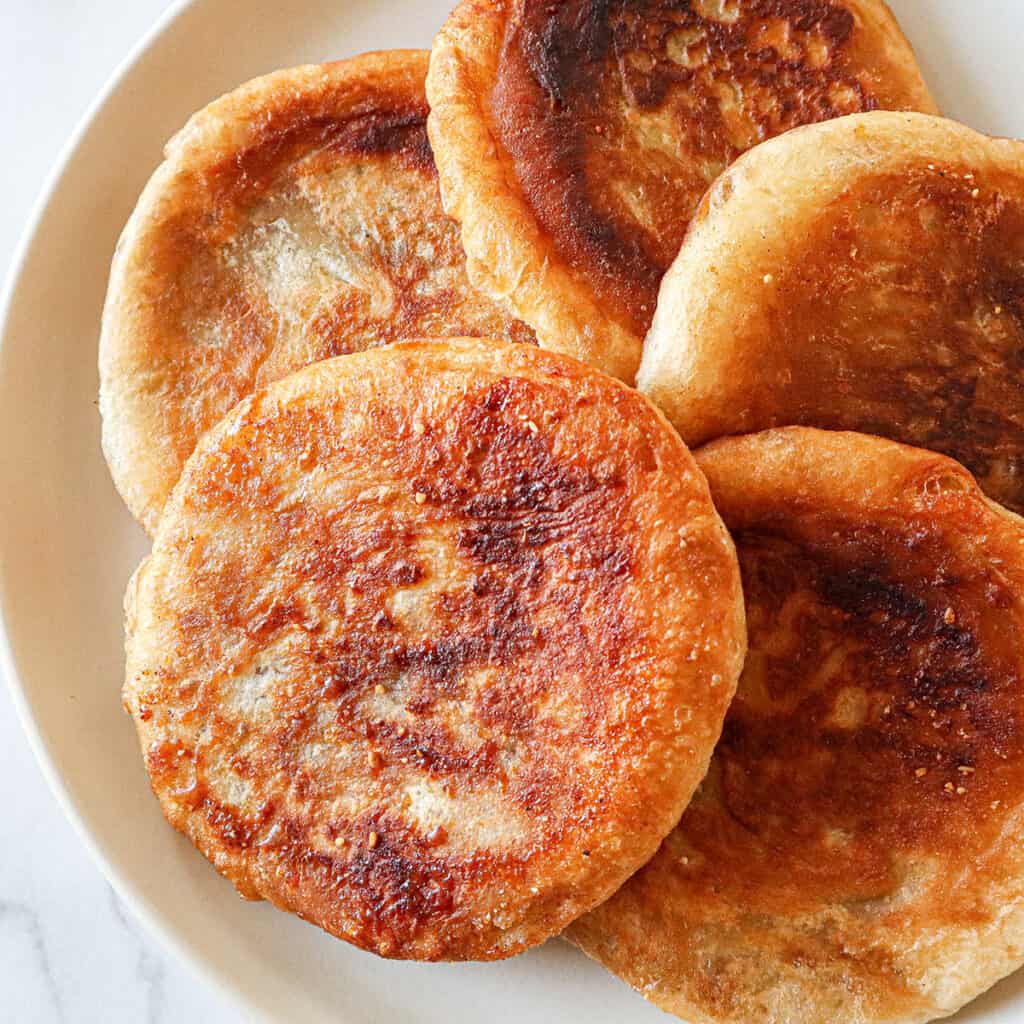 HOTTEOK (Korean Style Sweet Pancake)
Ingredients
DOUGH
1 ⅓

cup

warm water

310g

2

tablespoons

sugar

25g

2

teaspoons

dry active yeast or instant yeast

6g

1

tablespoon

neutral oil

12g

2

teaspoons

salt

8g

2 ½

cups

all purpose flour

360g

½

cup

sweet rice flour or mochiko or glutinous rice flour

82g
FILLING
¼

cup

roasted sesame seeds

35g

¼

cup

roasted peanuts

35g

1

cup

organic cane sugar

170g

2

teaspoons

cinnamon

4g

pinch of salt
FRYING
neutral oil (grapeseed, vegetable, canola, etc)
Instructions
In a large liquid measuring cup, combine warm water, sugar, and yeast until completely dissolved. Let it sit for 5 minutes or until the yeast activates and creates some foam on the surface.

In a large bowl, mix all purpose flour and sweet rice flour until well combined.

Whisk in oil and salt to the warm water and yeast mixture. Pour this over your dry ingredients. Mix with a wooden spoon until a sticky dough forms. Cover the bowl with plastic wrap and let dough rise in a warm place for about 3 hours or proof overnight in the refrigerator.

Meanwhile, for the filling, add peanuts and sesame seeds into a food processor and process until well broken down into a breadcrumb-like texture. If you don't have a food processor, you can break them down in a mortar and pestle or put them in a ziploc bag and smash them with a pan.

Mix your crushed nuts and seeds with sugar, cinnamon, and a pinch of salt (omit the salt if your nuts or seeds already had salt on them). You can also skip the nuts and seeds and opt for a plain cinnamon sugar filling.

Once the dough is ready, add oil into a pan, enough to generously coat the bottom. Heat oil over medium high heat. You want the oil hot enough so that your hotteok will sizzle when it hits the pan and fry nicely golden brown at a good pace. The oil shouldn't be so hot that your hotteok browns or burns too quickly.

Coat both hands generously with neutral oil so that the dough doesn't stick to your hands. Take about 3 oz of dough, gently flatten it onto your palm, and add 2 tablespoons of filling. Bring the dough from around the edges towards the center to cover the filling and seal it completely by pinching the edges together.

Place the hotteok, seam side down, onto your preheated pan. Depending on the size of your pan, you can make about 2-3 hotteoks at a time. Just don't overcrowd your pan, as the hotteoks need space to expand when pressed. Cook for about 30 seconds. Coat your hotteok press or spatula with oil so that the hotteok doesn't stick to it. Press the dough down with your hotteok press or spatula to flatten the hotteok. Cook for another 1-2 minutes or so or until the bottom is golden brown and crispy.

Carefully flip the hotteok over. Cook this side until golden brown and crispy just like the other side.

Transfer cooked hotteok onto a cooling rack or a plate lined with a paper towel to drain off any excess oil.

Repeat steps 7-10 until you make the desired amount of hotteoks. Serve immediately and enjoy while it's warm. You can place any left-over dough in a covered bowl in the fridge for up to 2 days and save the left-over filling in a container with a lid.