Finally, I'm sharing with y'all my onion and garlic free vegan kimchi. The flavour balance on this kimchi is perfection. The most critical part in making good kimchi is to create the most ideal environment for the Lactobacillus to develop the best flavour and crunchy texture. This is best done during napa cabbage season when the weather is cool. You can still make kimchi during the summer like I have done and it's still really good. But boy, I can't wait until fall and winter to make ginormous batches of this…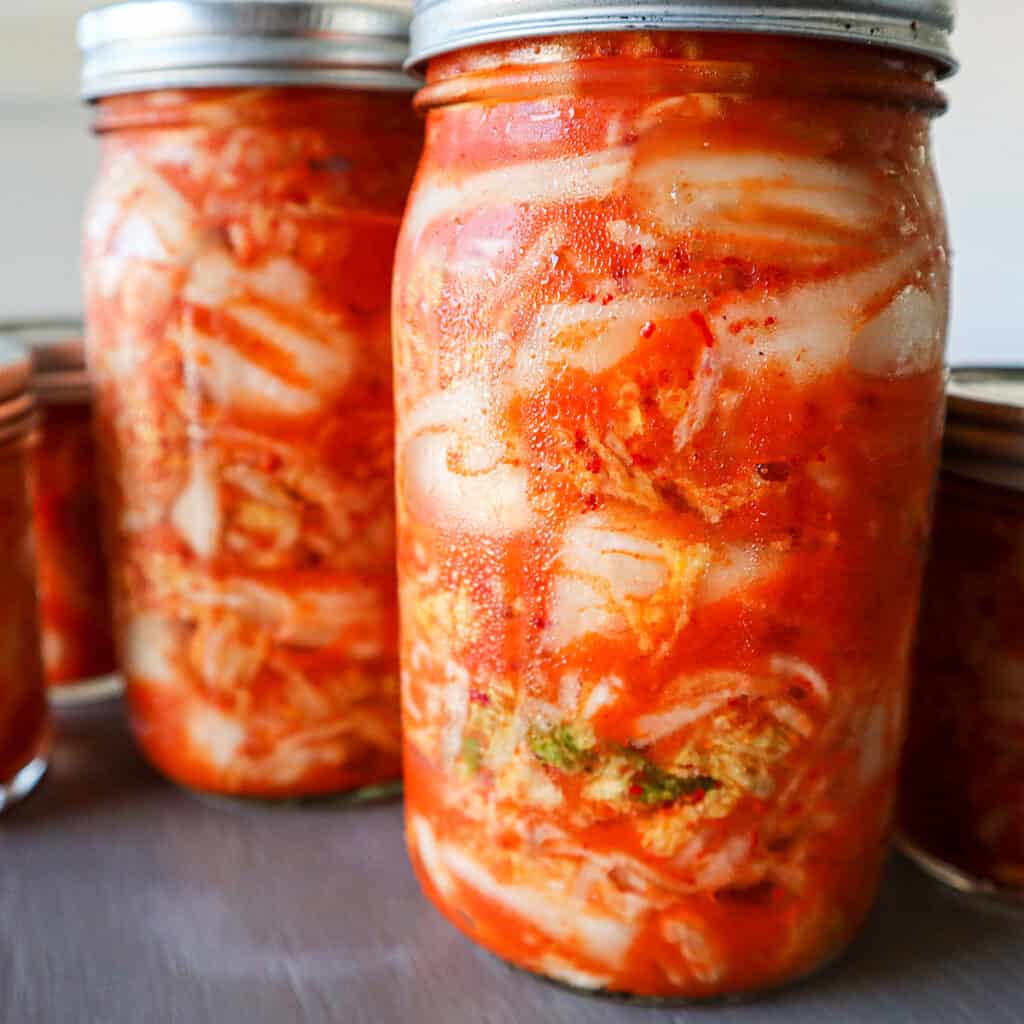 THE BEST VEGAN KIMCHI (Onion & Garlic Free)
Ingredients
For Brining:
5

lb

napa cabbage

(about 1 large head)

1

cup

coarse sea salt

(210g)

14

cups

water

½

cup

coarse sea salt, for sprinkling

(105g)
For Kimchi Sauce:
2

cups

water

¼

cup

sweet rice flour or any rice flour

(40g)

1

small

Korean daikon or Japanese daikon

(400g)

½

cup

coarse Korean red pepper powder (gochugaru)

(58g)

1

cup

seeded & roughly chopped fresno chilis

(98g) (about 4 chilis)

1 ½

cup

roughly chopped fuji apple

(213g) (about 1 medium apple)

⅓

cup

roughly chopped ginger

(44g) (about 1 thumb size piece)

2

tablespoons

salt, to taste

1

tablespoon

sugar (optional)
Instructions
Step 1 – Brining the napa cabbage
Prepare the brining solution by mixing 1 cup (210g) coarse sea salt with 14 cups water in a large bowl. Set aside ½ cup (105g) coarse sea salt for sprinkling.

Cut the napa cabbage in half lengthwise, then cut it into quarters lengthwise. Cut away the core and chop cabbage into 1 ½" pieces. Add all the white thicker parts of the cabbage into a large bowl and sprinkle some coarse sea salt on it layer by layer. Reserve some of the salt for sprinkling on top later. Add the leafy green parts in a separate medium bowl and set aside.

Once you're done chopping all the cabbage and have all the white thicker parts in the large bowl, add the leafy green parts on top, then pour over the brining solution and sprinkle the rest of the coarse sea salt on top.

Set this bowl aside away from direct sunlight for 2-4+ hours or until the white thicker parts become pliable but still maintain some of their crunch.
Step 2 – Preparing the kimchi sauce
In a small pot, whisk together 2 cups water and ¼ cup (40g) rice flour until thoroughly combined.

Cook the rice and water mixture over medium heat, whisking vigorously the entire time until the mixture becomes thickened into a rice paste. Turn off the heat and let it cool completely.

Peel and julienne 1 small Korean daikon (about 400g). Add to a medium bowl along with ½ cup (58g) coarse Korean red pepper powder (gochugaru).

Into a blender, add 1 cup (98g) seeded & roughly chopped fresno red chilis, 1 ½ cup (213g) roughly chopped fuji apple, ⅓ cup (44g) roughly chopped ginger, 2 tablespoons salt (to taste), 1 tablespoon sugar (optional – if your apple is sweet, then go ahead and skip the sugar), and all of the rice paste (make sure it's cooled enough to handle). Blend until completely smooth.

Pour this mixture over the bowl of gochugaru and julienned daikon. Mix thoroughly, cover, and set aside.
Step 3 – Mixing the cabbage & kimchi sauce + Fermentation
Once your napa cabbage has been brined to perfection, drain and rinse 2-3 times to wash off any excess salt. Drain off any excess water and add cabbage into a large bowl.

Pour over kimchi sauce and mix thoroughly. (I highly recommend wearing some gloves)

Add kimchi into a clean airtight container of choice. I recommend using a kimchi fermentation container (you can order them online or find them at most Korean grocery stores). The next best option would be to use 3 – 1 quart size mason jars with the wide mouth. Once you have gotten all the kimchi into your container, press the kimchi down to submerge all the cabbage under the kimchi sauce and close the lid. If you have a kimchi fermentation container, you can press out all the air with the airtight piece, then pop the lid on. Lactobacillus grows best in anaerobic conditions, meaning in low-oxygen conditions. Thus, kimchi is fermented in a closed container to keep air out.

Set aside in a cool place away from direct sunlight. Keep at room temperature for 1-3 days. Times will vary depending on the temperature of the room. On a hot day, it can take less than 1 day. On a normal day, it can take about 2 days. On a cool winter day, it can take up to about 3 days. These are general estimated times.

Put your kimchi in the refrigerator when it reaches about 60-70% of the desired sourness. Your kimchi will continue to develop flavor and sourness in the fridge. You can eat this right away, but it's best about 1-2 weeks after it's been in the fridge. This gives the bacteria more time to develop depth of flavor. Do not leave out kimchi at room temperature for too long because that will result in a mushy kimchi that's overly sour. Do not keep opening the container multiple times per day and exposing the bacteria to oxygen. This will disrupt the Lactobacillus and result in a bad tasting kimchi. Try to check it once per day only. Creating the ideal environment for the bacteria is the key to developing the best flavor and texture for your kimchi.
Notes
Your kimchi will taste best when made during napa cabbage season during fall and winter. Summer is not the most ideal time to make kimchi because napa cabbage is a cold weather vegetable and hot climates are also not the most ideal for fermenting. Kimchi will ferment best in cooler environments. Warm temperature can often cause the bacteria to develop too fast causing the kimchi to get sour and mushy easily. 

Make sure to keep everything clean & sterilised when making kimchi. You don't want to introduce some bad bacteria or other organisms that can disrupt the good bacteria from fermenting properly.