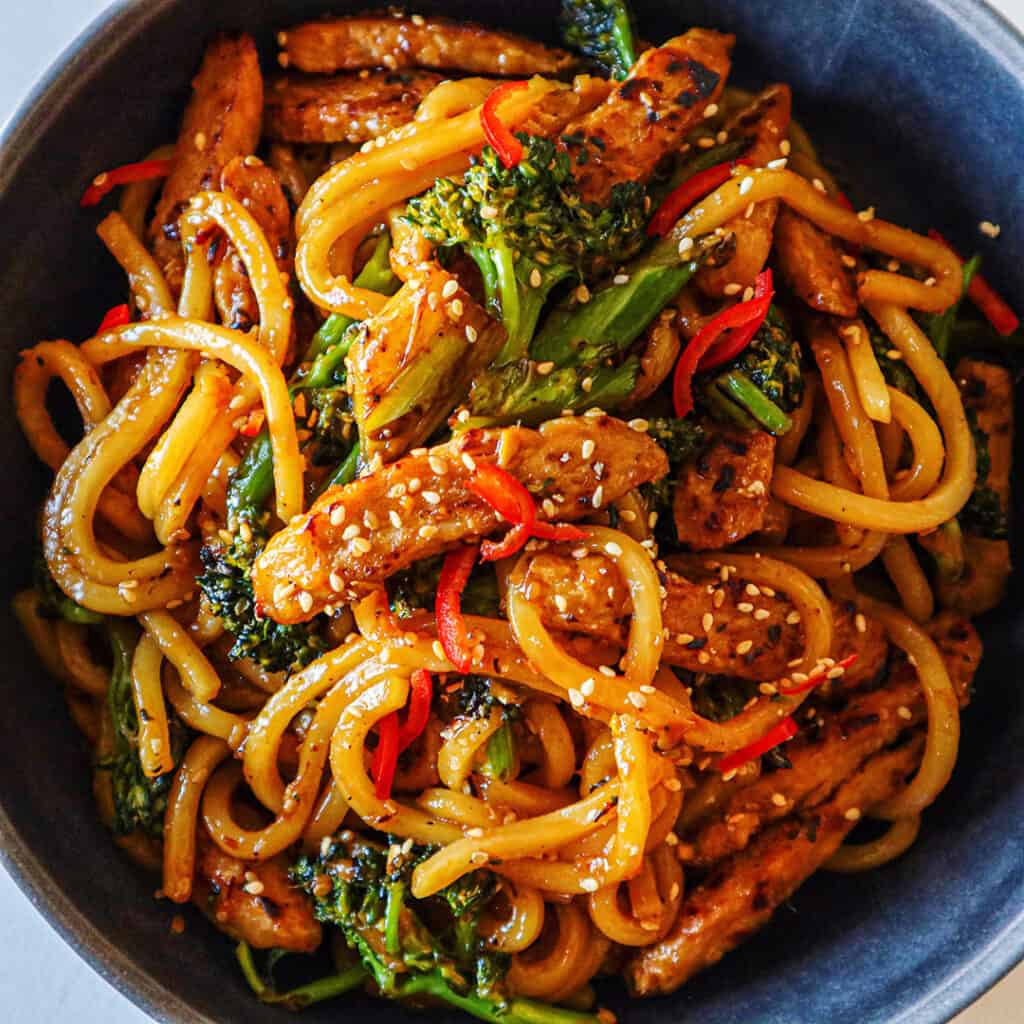 Here is a perfect, quick weeknight meal that's way better than any takeout. No matter how long of a day I've had at work, I can always whip up this 15-minute vegan teriyaki chicken noodles easily! It's so tasty and satisfying. It's one of those dishes that just hits the spot!
15-MINUTE VEGAN TERIYAKI CHICKEN UDON NOODLES
Ingredients
Teriyaki Sauce
1/4

cup

tamari or soy sauce of choice

(60g)

1/2

cup

pineapple juice

(120g)

1/4

cup

brown sugar

(40g)

2

tsp

toasted sesame seeds

1/4

tsp

black pepper

1

Tbsp

minced ginger

1-2

tsp

Sambal Oelek hot sauce

, to taste

2

tsp

toasted sesame oil
Noodles, Vegan Chicken, & Broccoli
2

pieces

udon noodles

(440g)

1

package

Lightlife Smart Tenders Plant-based Chicken from Trader Joe's or vegan chicken of choice or extra firm tofu or tempeh

(170g)

3

cups

chopped broccolini or broccoli

(225g)

Neutral oil for sautéing
Instructions
Chop broccoli or broccolini into bit size pieces. Keep stems and tops separate, because they have different cooking times.

Slice vegan chicken, tofu, or tempeh into bite size strips.

In a small bowl, mix all the teriyaki sauce ingredients.

Heat a large pan or wok over high heat. Add 1 teaspoon of oil and add broccoli stems. Sauté for about a minute, then add broccoli tops. Sauté stems and tops until it has some charring but don't overcook. Broccoli should still maintain some of its delicious crunch. Adjust heat accordingly so that you don't burn anything. Remove broccoli out of the pan and set aside.

Heat another teaspoon of oil in the same pan. Add vegan chicken, tofu or tempeh. Sauté until your protein is nicely seared on all sides, then remove from pan and set aside.

Pour teriyaki sauce into the pan. Stir occasionally using a wooden spoon or wooden chopstick. Simmer the sauce for about 3-4 minutes or until the sauce is thickened. Then add udon noodles. Stir to coat the noodles with the sauce. If you're using frozen noodles, allow the noodles to thaw in the pan while gently moving them around the pan. This way they can thaw evenly.

Once the noodles are thawed (if using frozen) or have absorbed most of the sauce, add broccoli and vegan protein back into the pan and stir fry everything for another 30 seconds or so.

Serve immediately. Garnish with toasted sesame seeds.