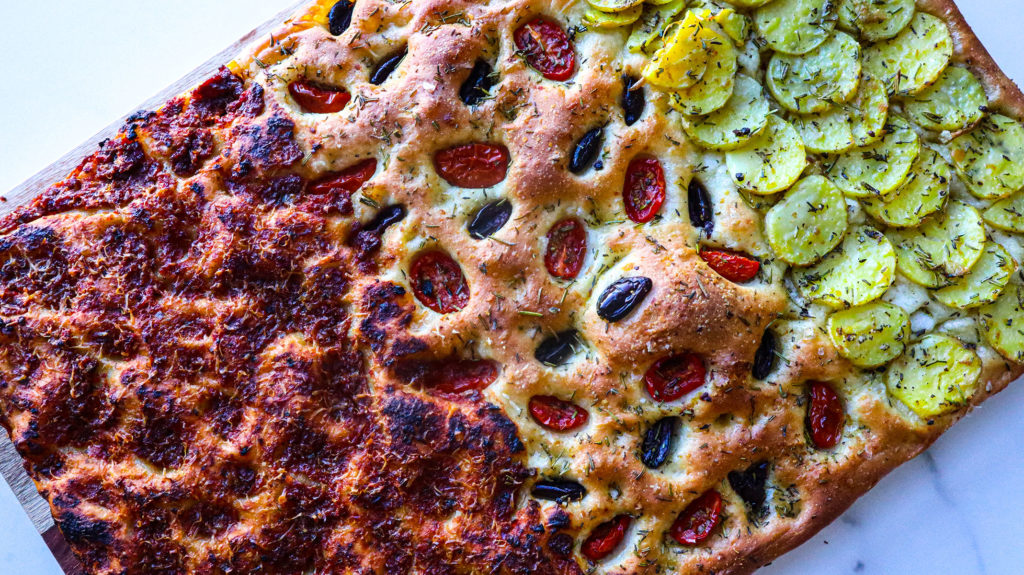 This is the best focaccia recipe I've ever tried. The secret to a super flavorful focaccia is to proof the dough overnight in the fridge. This extra time not only allows gluten development for a superior, fluffy, light texture, but also adds loads of flavor into the dough through the slow fermentation process. It truly makes a worlds difference.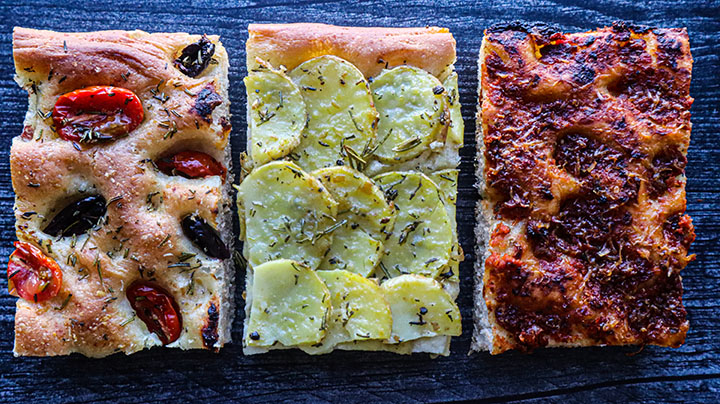 Here are my 3 absolute favorite topping combinations: tomato olive, potato, and pizza. All 3 flavors are addictively delicious; you won't be able to stop eating them.
The BEST Focaccia 3 Ways (Potato, Pizza, Tomato Olive)
Servings:
1
18X13″ sheet tray (for thinner focaccia) or 9X13″ baking pan (for thicker focaccia)
Ingredients
Focaccia Dough
1 ½

cup

warm water

(355g)

1

tablespoon

sugar

(12g)

2

teaspoons

instant yeast or dry active yeast

(6g)

1

tablespoon

salt

(17g)

2

tablespoons

olive oil

(26g)

4

cups

all-purpose flour or bread flour

(540g)

olive oil
Potato Focaccia
Par-boiled (half-cooked) yukon gold potatoes,

thinly sliced

Olive oil

Fresh rosemary leaves,

roughly chopped

Fresh thyme leaves,

roughly chopped

Salt

Black pepper

Nutriotional yeast
Tomato Olive Focaccia
Cherry or grape tomatoes,

cut in half lengthwise

Pitted kalamata olives,

cut in half lengthwise

Fresh rosemary leaves,

roughly chopped

Fresh thyme leaves,

roughly chopped

Salt

Nutritional yeast

Olive oil
Pizza sauce
1

cup

sundried tomatoes (not packed in oil),

soaked

1

28oz can

whole peeled tomatoes,

drained

¼

cup

fresh basil leaves

roughly chopped

2

teaspoons

sugar

¼-½

teaspoon

chili flakes,

to taste

pinch of salt,

to taste

freshly ground black pepper,

to taste

2

tablespoons

olive oil
Optional Pizza topping
Vegan parmesan

(Violife brand is best)
Instructions
Focaccia dough
Whisk warm water, sugar, and yeast in a large measuring cup and let it sit for 5 minutes (it should get slightly foamy or creamy on top; if it doesn't your yeast is dead and you'll need to get more yeast from the store—check the expiration date!).

Whisk in salt and olive oil into the water, sugar, and yeast mixture.

Measure your flour into a large bowl, then make a well in the middle. Pour your liquid ingredient mixture into the well. Mix with a spatula until you can no longer mix with a spatula. Now it's time to get your hands in there and mix the dough until a dough ball forms. It may feel a bit sticky at first, but that's completely okay.

Oil your work surface and hands. Transfer your dough onto your work surface and knead the dough for about 5-10 minutes or until you can form the dough into a smooth ball.

Lightly grease the same large bowl with some olive oil and add the dough back into the bowl. Lightly coat the dough ball with oil. Cover with a lid or plastic wrap and chill for at least 8 hours and up to 24 hours, or until the dough has doubled in size (overnight should be good). If you're in a rush, you can let it rise at room temperature for about 3-4 hours, or until doubled in size.

If you proofed the dough in the fridge, take the dough out and let it come to room temperature so that the dough becomes soft enough to handle, about 30 minutes to 1 hour.

Generously oil a 9×13" baking pan for a thicker focaccia, or an 18×13" rimmed baking sheet for a thinner focaccia.

Transfer the dough to the prepared pan. Gently stretch and spread the dough evenly to the size of the pan, but don't force it. If it doesn't stretch to all 4 corners, let it rest for 10-15 minutes, then try again. Keep repeating this method until you're able to spread the dough to all 4 corners. Cover and let it rise until doubled in size, about 1-3 hours.

Place a rack in the middle of the oven and preheat to 450°F.

Once your focaccia has doubled in size in your pan, wet your hands and take your fingers and dimple the focaccia all over. Top with toppings of choice and let it proof one more time for an additional 30 minutes or so. Bake focaccia for about 20-30 minutes or until golden brown all over.

Focaccia is best on the day it's made. It also keeps well in the freezer. Slice it into pieces, store in a freezer-safe container or ziploc bags. You can reheat them on a baking sheet in a 300° F oven.
Pizza Sauce
Add all pizza sauce ingredients into a food processor and puree until smooth.