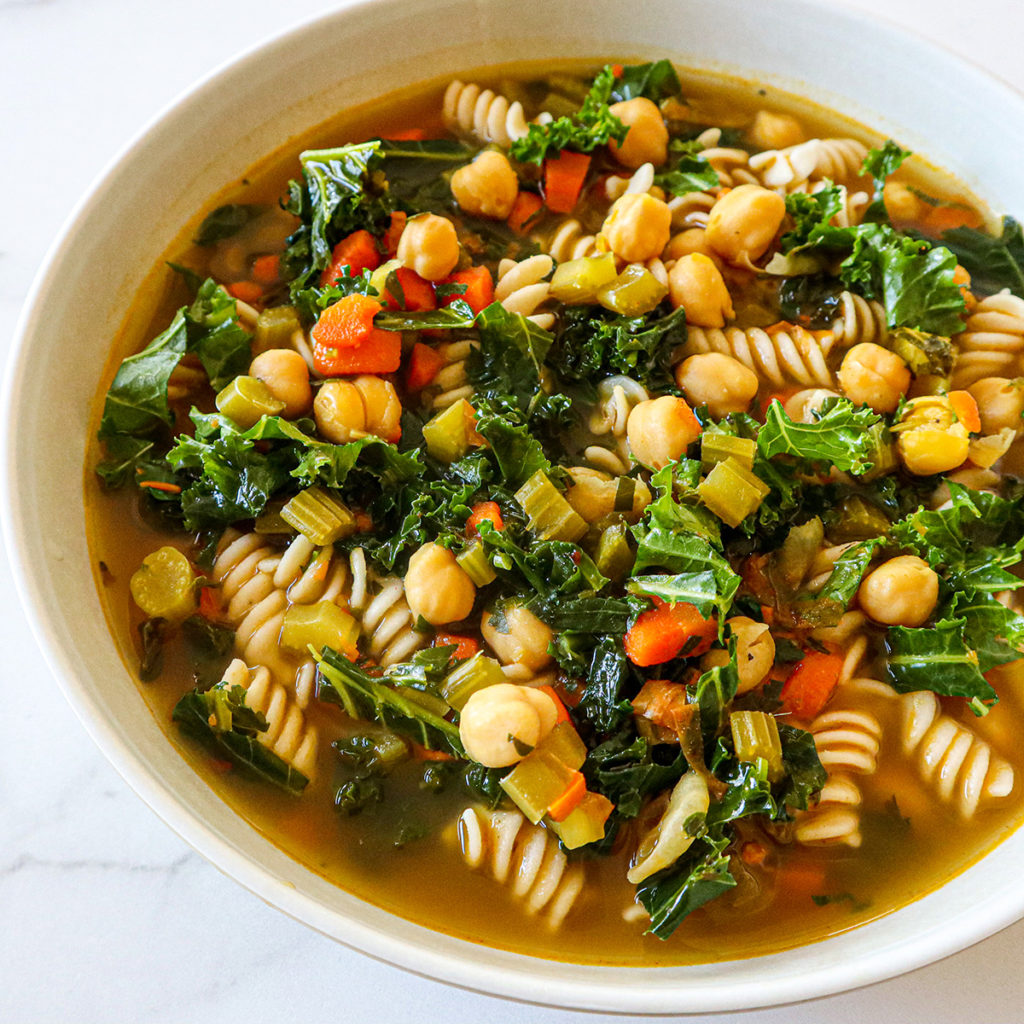 This is one of my favorite recipes I've ever written. I think I really nailed that umami packed, chicken noodle soup flavor. It was challenging because I was set on not relying on any vegetable bouillon or mushroom powder. Instead, I ended up going with nutritional yeast, tamari, chickpea flour, and a flavor building soup cooking technique that yielded way better flavor than any vegetable bouillon.
It's hard to believe that this soup is so healthy because it tastes so good! It also happens to be loaded with vegetables and protein, making this the most delicious and healthy weight loss meal.
Healthy Chickpea Noodle Soup
Ingredients
Cooking chickpeas from dry (Makes about 3 cups cooked)
1

cup

dried chickpeas

4

cups

water

1

teaspoon

salt
Chickpea noodle soup
3

tablespoons

olive oil

1 ½

cups

diced carrots

1 ½

cups

diced celery

2

tablespoons

chickpea flour

½

teaspoon

salt, to taste

½

teaspoon

black pepper, to taste

½

teaspoon

ground turmeric

1

teaspoon

ground cumin

2

teaspoons

fresh thyme leaves

4-6

bay leaves

¼

cup

nutritional yeast

¼

cup

tamari

3

cups

cooked chickpeas

(2 – 15oz can chickpeas)

8

cups

liquid

(chickpea cooking liquid, water, or vegetable stock)

½

cup

chopped parsley leaves

4

cups

chopped kale or spinach

2

tablespoons

lemon juice

8

ounces

gluten free pasta

(half of a 1lb bag of pasta)
Instructions
To cook the chickpeas
Rinse chickpeas to clean them. Mix chickpeas, 4 cups of water, and 1 teaspoon of salt in a pot that you're going to cook them in (make sure it's large enough; chickpeas will expand about 2-3 times their size). Cover with lid and soak overnight at room temperature.

After soaking, bring chickpeas and soaking liquid to a boil and boil for about 10 minutes. Skim off any foam that arises to the top. Lower heat, and simmer with a lid for about 1 hour or until the chickpeas are cooked through and tender. Set aside.
To cook the soup
Heat olive oil in a large pot. Add carrots and celery, and sauté until some browning starts to happen around the vegetables.

Add chickpea flour and sauté until golden.

Add salt, black pepper. turmeric, cumin, fresh thyme leaves, bay leaves, and nutritional yeast. Sauté until aromatic. Add tamari and sauté for another 30 seconds or so. Adjust heat accordingly so that you don't burn anything.

Add cooked chickpeas, half of the chopped parsley, and 8 cups of liquid. This liquid can consist of chickpea cooking liquid, chickpea liquid from the can, water, vegetable stock, or a combination of these. The total amount of whatever liquid you use should be around 8 cups. I used my chickpea cooking liquid and water. Bring to a boil. Skim off any foam on top. Reduce to a simmer and cover with lid. Simmer for about 30-45 minutes.

In the meanwhile, prepare the pasta. Bring a pot of salted water to boil. Add pasta and cook until slightly under al dente. If the package instructions say 7-10 minutes, aim for 5 minutes. The pasta will cook a bit more once mixed with the hot soup, so better to slightly undercook than overcook. Drain and rinse pasta under cold water. Set aside.

Once the soup is cooked and all the flavors have developed, turn off the heat, and add kale (or spinach), the remaining half of the parsley, and lemon juice. Stir well, and serve over cooked pasta noodles in a bowl.
Notes
I cook the pasta separately because the starch will make the soup broth too murky and starchy. 

I also cook the pasta separately so that the pasta doesn't overcook while sitting in the soup.

Short varieties of pasta work best like fusilli. If you're using a longer pasta, you can break them up into smaller pieces.

When storing, keep pasta in a ziploc bag separate from your soup. Reheat your soup in a pot, and once it's heated through, add some pasta at the last minute to quickly warm them up. This way the pasta doesn't get mushy.