This is the BEST Vegan Pumpkin Cheesecake recipe ever! It has a delicious biscoff cookie crust and a perfect creamy pumpkin spice filling. It's the perfect make ahead dessert for any occasion. Please make this and enjoy it with your friends and family during the holidays! 🙂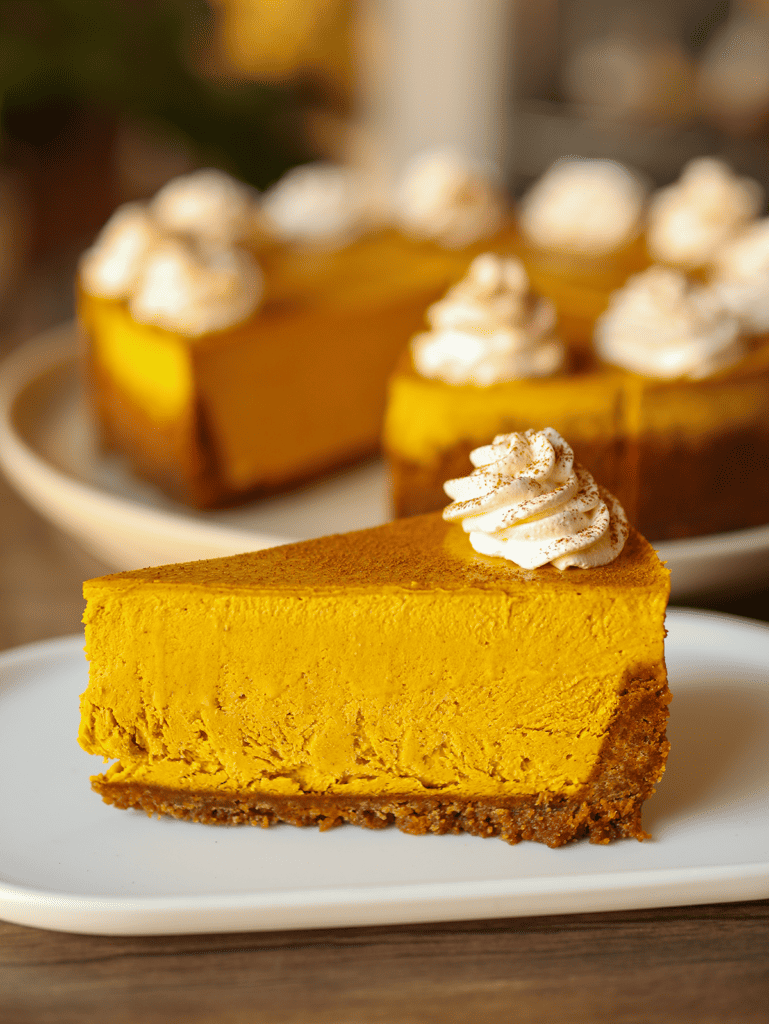 BISCOFF CRUST
320g biscoff cookies (41 cookies)
140g melted vegan butter (¾ cup)

Preheat oven to 350°F or 176°C. In a food processor, process biscoff cookies until broken down into a coarse sand like texture. Add biscoff cookies and melted butter into a bowl. Mix until well combined. Cut a 9" circle of parchment paper and line the bottom of a 9" round springform pan. Press biscoff cookie mixture along the sides and bottom of the pan to form the crust. Bake for 5-7 minutes. Let it cool completely before adding the cheesecake filling.

PUMPKIN CHEESECAKE FILLING
39g lemon juice (3 tablespoons)
235g water (1 cup)
1 – 15oz can pumpkin puree
280g raw cashews (2 cups), soaked for at least 2 hours
1 tablespoon cinnamon
½ teaspoon ground ginger
1 teaspoon ground nutmeg
¼ teaspoon allspice
¾ teaspoon salt
155g brown sugar (1 cup)
2 teaspoons vanilla extract
150g melted coconut oil (¾ cup)

Blend all of the ingredients except for the coconut oil on high speed until completely smooth. Stop and scrape the sides of the blender with a spatula if needed. On medium low speed, stream in the melted coconut oil until thoroughly combined. Pour pumpkin filling into the springform pan over the prepared crust. Smooth out the top of the cheesecake with an offset spatula to even out the surface. Place cheesecake in the freezer or fridge to set overnight.

For serving: If frozen, thaw cheesecake in the fridge for about 4-5 hours before cutting the cheesecake. Cut cheesecake into 12 slices. Top with vegan whipped cream. Garnish with ground cinnamon and/or chopped pecans.

Note: If you don't want to buy all the different spices listed above, you can just use 2 tablespoons of pumpkin pie spice instead.